Compact Windows Text Editor to Edit All Kinds of Text Files
Brazilian Portuguese Version of EditPad Lite
EditPad Lite is a compact general-purpose text editor. Use EditPad Lite to easily edit any kind of plain text file. EditPad Lite has all the essential features to make text editing a breeze. EditPad is available in many languages, including Brazilian Portuguese.
EditPad Lite is free for personal use. Business and government users can purchase a license.
A Compact Text Editor
EditPad Lite has a lot of functionality that makes editing text files more convenient for you. A lot of this does not sound very impressive or even works behind the scenes, but you will surely appreciate it when you need it. These are only a small number of EditPad Lite's many little features that make heavy text editing a breeze.
EditPad Lite can edit text in any script supported by Windows, including right-to-left scripts such as Hebrew and Arabic and complex scripts such as the Indic scripts. EditPad Lite can also force left-to-right text to be strictly monospaced, even when using a font that isn't monospaced, so your columns always line up perfectly.
If you need to type in some special characters not available on your keyboard, you can use EditPad Lite's character map to quickly insert them by double-clicking on them. Easily insert special symbols like the trademark or copyright symbol into your documents, or enter letters from a foreign script that your keyboard does not support. If you save your files as Unicode files, you can use any character known to humanity.
EditPad Lite edits all text files. Open text files saved on Linux, UNIX and Macintosh computers, or even text files from old DOS PCs or IBM mainframes. EditPad Lite preserves the file's compatibility with those systems, unless you explicitly convert it. You'll never have to worry about being unable to open a text file, and you'll always be able to save your files in a format that people with less flexible text editors can read. EditPad Lite handles DOS/Windows, UNIX/Linux and Macintosh line breaks. Open and save text files encoded in Unicode (UTF-8, UTF-16 and UTF-32), any Windows code page, any ISO-8859 code page, and a variety of DOS, KOI8 and EBCDIC code pages. Convert files between any of these encodings.
With EditPad Lite you can easily open and edit many text files at the same time. There's no limit. Many of EditPad Lite's editing commands can work on all open files at once. Quickly switch between files by clicking on their tabs. Move back and forth with the handy "previous editing position" and "previously edited file" commands.
EditPad Lite sports one of the most extensive search-and-replace features of any text editor. Quickly find the part of the file you want to edit. Highlight matches, fold lines, and skip over matches and files. Instantly make many replacements throughout a (rectangular) selection, file, project, or all files in all projects. Use regular expressions and adaptive case options for powerful and dynamic search terms and replacements. Clever use of EditPad Lite's search-and-replace can automate much tedious editing.
EditPad Lite's Clip Collection makes it easy to keep a list of text snippets at your fingertips, ready to be inserted into the file's you're editing. Such a snippet can be a word, phrase, three paragraphs, half a book, or anything you want. Clips can consist of "before" and "after" parts to be inserted around a selection.
Don't worry about saving files with EditPad Lite extensive auto-save and backup options. Choose how many backup copies you want to keep and/or for how long. The File History shows you the backup copies for the current file. You can easily open and compare backups, as well as save specific milestone copies. EditPad Lite's unlimited undo and redo even allows you to undo changes after saving them.
EditPad Lite will highlight URLs (web site addresses) and email addresses in your text files. You can easily open the web site by double-clicking the URL in EditPad Lite. Of course, you can always turn this option off.
EditPad Lite normally does not include a spell checker. EditPad Pro does include a spell checker. The purchased version of EditPad Lite, however, includes EditPad Pro's spell checker as a bonus feature. Word lists are available in many languages. You can tell EditPad Lite to point out misspelled words in the current file, current project, all open files, or just the selected text. Turn on Live Spelling to make EditPad Lite highlight misspelled words as you type.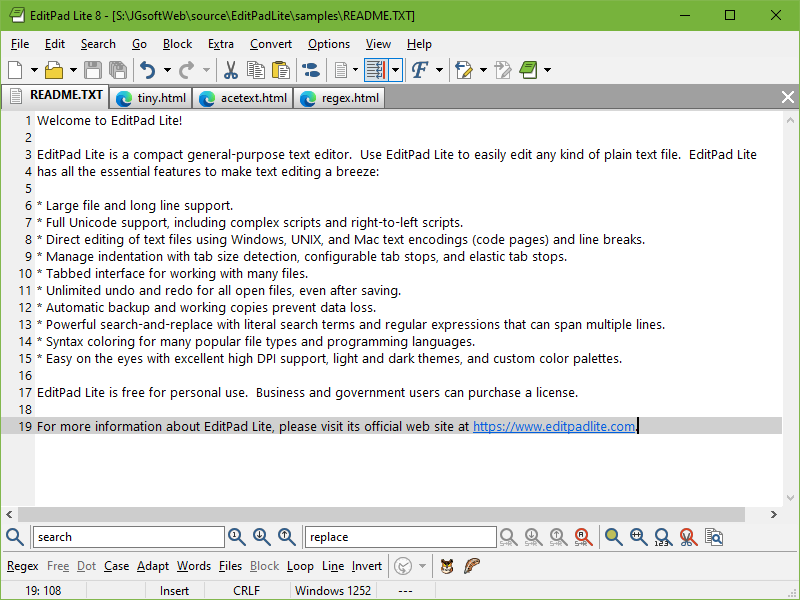 "I have just downloaded your application and I must say that I am delighted. As a software developer myself - your application is easy to use, extremely well thought-through and I will continue to use it for editing my own development scripts."
— James Laing
  13 September 2011, United Kingdom
"I have been remiss in not sending this email sooner. I was turned on to EditPad Lite by a fellow coworker years ago. At the time, I did not anticipate how dependent I have become on this wonderful piece of software. I could not count the ways it has helped me."
— Nick McCusker
  23 March 2011, Colorado, USA
Buy EditPad Lite Now
All EditPad Lite licenses are valid for all language editions. Though our order forms are only available in English, you will be able to download the Brazilian Portuguese version from the Brazilian Portuguese download page after purchasing.
The easiest and quickest way to buy your own copy of EditPad Lite is online with your credit card. Our online purchase form has been fully secured with strong 128-bit encryption. Your order will be processed immediately. You will be able to download and start using EditPad Lite in only a minute or two. You will also be able to print a detailed invoice for tax and accounting purposes in your web browser.
If you have a PayPal account, you can buy EditPad Lite via PayPal. If you use funds from your PayPal account or credit card (but not from a bank account), you will be able to download and start using EditPad Lite immediately after the PayPal transaction.
Download EditPad Lite in Brazilian Portuguese
Fully Licensed Version
If you have already purchased EditPad Lite, you can download the latest version by typing in your email address and EditPad Lite user ID below. If you lost your user ID, type in your email address and leave the user ID field blank. You will then receive an email message with your user ID. Version 7.6.4, released 11 May 2018.
The download includes the EditPad Lite software in Brazilian Portuguese. The help file is in English.
Free Download For Personal Use
EditPad Lite is free for personal use only. If you use EditPad Lite at home or at school for purposes that don't generate money, you can download the free version of EditPad Lite without any kind of payment or registration..

The download includes the EditPad Lite software in Brazilian Portuguese. The help file is in English.

Download EditPad Lite BR (5.9 MB)

Page URL: http://www.editpadlite.com/m/br.html
Page last updated: 11 May 2018
Site last updated: 11 May 2018
Published by Just Great Software Co. Ltd.
Copyright © 2000-2018 Jan Goyvaerts. All rights reserved.